BLANK WALLS?
Want to add color to your place of business? Maybe you'd like to express admiration for your significant other, a family member, favorite pet, or best friend. Why not commission a portrait? At prices far below industry average, it's an affordable way to beautify your surroundings, or those of someone you care about. Just select your canvas size, choose a medium (oils or acrylics), and email me the photo you'd like represented. If you live in the Cleveland area, I'd be happy to take care of photography, and paint the picture of your choosing. I can also extract elements from multiple photos and pull them together in a composite painting. To guarantee satisfaction, you'll be sent a digital photo of the finished work. If you don't approve, I'll make every effort to correct whatever flaws you find, and if still unsatisfied, I'll keep the painting, and you keep your money.
16″ X 20″ Acrylic/Oil Painting
1 Person=$100
2 People=$150
3 People=$200
4 People=$250
18″ X 24″ Acrylic/Oil Painting
1 Person=$125
2 People=$175
3 People=$225
4 People=$275
18″ X 36″ Acrylic/Oil Painting
1 Person=$150
2 People=$200
3 People=$250
4 People=$300
30″ X 40″ Acrylic/Oil Painting
1 Person=$200
2 People=$250
3 People=$300
4 People=$350
PORTRAIT SERVICE
Send in a photograph and have an oil or acrylic painting created in its likeness. See the images below to get a feel for my style. Costs for the service (determined by the number of people portrayed and canvas size) are listed to the right.
To order, send the photo you'd like portrayed along with your email, street address, phone number, canvas size and medium specs to:
Richard Croft
15614 Lake Avenue
Lakewood, OH 44107
Or email info with an attached image
Paintings may take up to three weeks to complete. If you're in a crunch and need an item by a certain date, be sure to specify so much in a letter accompanying the photo.
To ensure your satisfaction, a digital picture of the painting will be emailed to you. If satisfied, remit payment. The portrait will be shipped as soon as payment is received. If requesting a rush order, you will need to send payment with the photo and size specs. If none of the sizes listed suit your needs, specify the size you would like, and I will call with a quote.
Sample 30″ X 40″
Oil on Canvas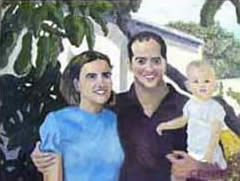 Sample 18″ X 24″
Oil on Canvas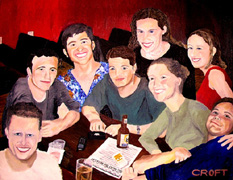 Sample 18″ X 24″
Oil on Canvas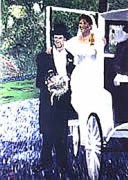 Sample 16″ X 20″
Acrylic on Canvas